Having done that a trader can plot a trend line.
Note the rule of placing trend lines for uptrend and downtrend.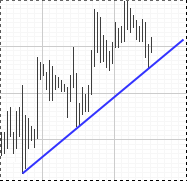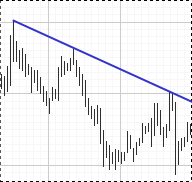 For uptrend a trend line is plotted below the price action to indicate a support level.
For downtrend — above the price action to mark the level where resistance occurs.
For more information about trend lines visit: http://www.forextrendline.com
&laquoAlways trade with the trend&raquo... or at least try to — the gold rule in trading. That's why we want to find a direction of the trend.