Flag pattern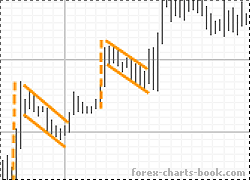 This pattern looks like a small flag with a flagpole. It is a continuation pattern, which means that the price will usually assume its previous direction after breaking out of flag.
When the flag is upside down (the flagpole is above the flag) — the price will continue moving down.
When the flag is in upright position — which means we were in the previous uptrend, the price will continue moving up.
However, there are exceptions from this rule. For example, when we trade in a downtrend and happen to spot a flag in "upright" position, a decision for us to go long from that point would be wrong. Why? Our aim is to trade with a trend (downtrend in this case), therefore only breakouts downwards which are going along with our dominant trend would count as a considered points to open new trades.