---
Cup and Handle
Cup and Handle pattern (another name is Cup and Saucer) is a long term pattern which sometimes can take 2-4 month to form. However, it may occur during one day period and can be also found on the hourly charts.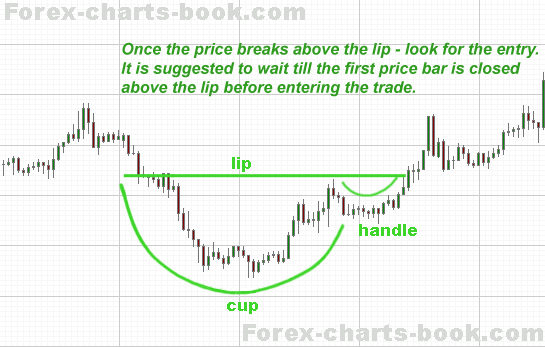 Cup and Handle chart pattern occurs during the trend reversal. First, the price is trying to recover — making a rounding bottom. Later the price finds resistance at the previous resistance level. This makes it turn and slope down a bit before it gains enough strength to test that resistance level again. This forms a handle of the cup.
It is rather a visualization trick to draw that cup and a handle, because when the pattern and in particular the lip of the cup (resistance level) can be clearly seen traders can prepare to enter the market on the break of the lip. After such break the price tends to rocket up quite quickly.
Once the price breaks above the lip — traders open Long positions usually after the first price bar had successfully closed above the lip.
To your trading success!
Jeff Boyd
Copyright © Jeff Boyd Authors & Publishers
---