Double top pattern
Double top and double bottom are well known and commonly used chart patterns. They are also easy to spot. Double top pattern appears similar to letter "M", while double bottom pattern can be compared to letter "W".
What is common for these reversal patterns is that on both the attempt to achieve a new higher high (for uptrend) or lower low (for down trend) fails once reaching levels of strong opposite force. When approaching these levels price is pushed back and if there is not enough power to continue the move, the market will prepare to reverse.
Double tops occur when price reaches the new high, retraces back from it, comes up again to re-test that new high, but instead of making next higher point it fails and comes down again. Spotting such case, traders start watching price actions closely. What do they want to see?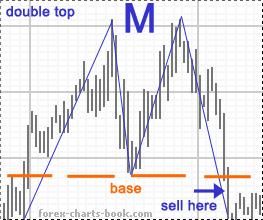 Traders want to see the price going through the base of the double top pattern.
If price drops below that base, a double top pattern is confirmed, and it is a signal to sell.
Also traders watch whether the price fails to break the highest point for the third time — if so, it will become a triple bottom pattern — even more emphasizing that current trend is about to change.